Skip to Content
Get Equipment Repairs & Service in Ottawa, ON
Home offices and large businesses, alike, can count on m5digital for equipment repairs and service in Ottawa, ON, as well as the Kemptville and Brockville regions. While we sell and lease up-to-date, high-quality equipment for businesses of all sizes, we also understand how a malfunctioning or broken printer or copier can cripple productivity in your office. Get back on track with m5digital's repair and service specialists to restore your office equipment back to full function so you and your employees can maintain optimum performance. We pride ourselves on being specialists in the latest office technology and the service needed to keep it running at its best. With our repairs and service agreement, get peace of mind with features like pay-per-copy or -print, and never worry about paying for labour, toner, supplies, or repairs. For your printers, scanners, and other office technology, trust us for thorough repairs and servicing.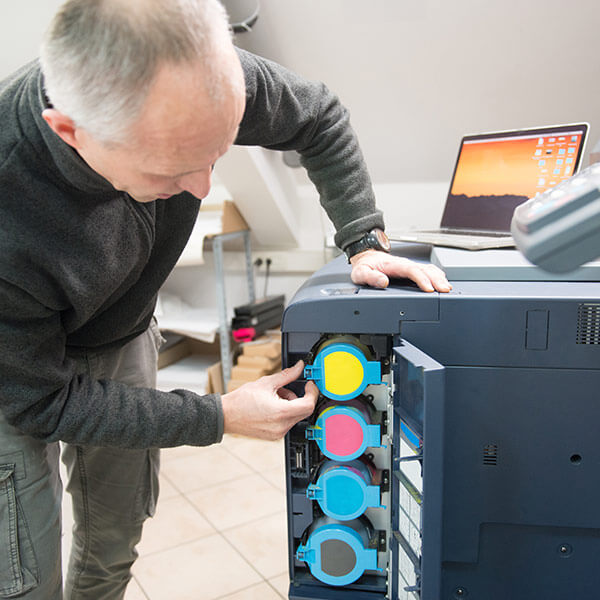 Service for Most Makes & Models
The service specialists at m5digital stay up-to-date on technology and training by attending courses regularly to continue building their knowledge and skills. Because of this, we're able to service and repair most makes and models of office equipment throughout the Ottawa, Kemptville, and Brockville regions of Ontario. Printers, photocopiers, shredders, scanners, folders, and wide format printers are examples of the office technology that we service. We perform maintenance to keep your equipment running at its best and repairs to recover it from a break or malfunction. You might buy or lease equipment from us, which means you're getting pristine, current equipment. However, in the rare case that something goes wrong, you can count on us to resolve the issue, so your business doesn't suffer an unnecessary reduction in productivity.
Worry-Free Service with m5digital
Your printers, copiers, and other office technology are in good hands with the repair and service specialists at m5digital. To make things even easier during times of machine malfunction or failure, we also offer worry-free service agreements and our no-risk warranty of a 100% 90-day money back guarantee. Bring your office equipment needs to us, and get the best service in the Ottawa, ON area. Call us today to get a free estimate on service.
Get a Free Estimate on Products and Services for Your Office