Skip to Content

Convenient Fax Services
OpenText RightFax integrates with OKI MFPs allowing you to have fax services on your network giving you convenient access to faxing capabilities on the same devices used for printing, scanning and copying.
With Oki's RightFax connector, you'll benefit from walk-up access and a central point of control for electronic or hard copy faxing enabling you to streamline document flow processes while saving time and money on administrative tasks.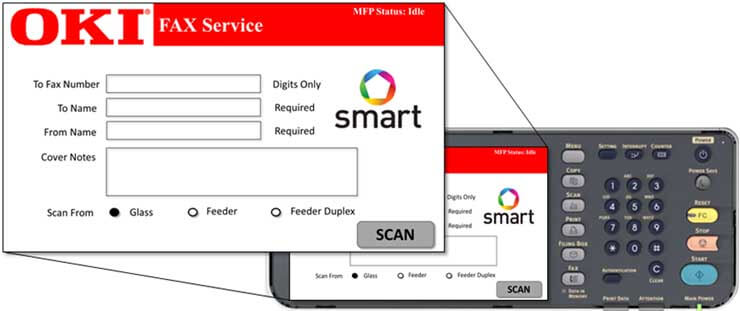 System Requirements
RightFax version 10.6 or greater
Windows XP and later Windows OSs are supported
Requires RightFax client installed on PC
Supported OKI MFPs
MPS3537mc
MPS4242mc
MPS5502mb
MC770 / MC780
MB760 / MB770
CX3535 MFP / CX4545 MFP*
ES9465 / ES9475
With Analog Fax Machines
OKI Solution
Benefit

With Analog Fax Machines

Maintaining analog phone lines for fax machines are costly.

OKI Solution

Eliminate analog lines at each MFP.

Benefit

Immediate savings for each MFP.

With Analog Fax Machines

Reporting and tracking fax usage from individual fax machines/MFP's is difficult and often a manual process.

OKI Solution

Offers centralized reporting on your fax server.

Benefit

Simple tracking and reporting of all fax traffic.

With Analog Fax Machines

Many companies are using fax Server technology for other business process today.

OKI Solution

Provides compatibility with the fax server being used today.

Benefit

No need for additional software/costs to integrate with existing fax server.
Get a Free Estimate on Products and Services for Your Office